Float Adjustable Bed with Natura Mattress and USB Ports
Introducing the Float Adjustable Bed, a smart bed that comes with motorised base, USB charging ports and functional dual-pockets on both sides of the bed. With control and flexibility, it enables you to have an elevated and ergonomic sleeping experience that follows the natural body contours.
A simple and quick press on the remote-control and the Float Adjustable Bed can be adjusted to any angles for both the head and feet. This quiet and smooth adjustable feature allows you to raise your upper body or legs, which takes pressure and pain off the body and provide support to the neck and back. It is a perfect pain reliever for backache, heartburn or swollen feet but at the same time, they're also great if you just want to pamper yourself to a well-deserved luxurious rest.

Uplift comfort with breathable fabric
Love the support of a spring mattress, but want the cushy comfort? With Natura mattress, you won't have to choose. With its thick latex topper and good pocketed spring base support, this mattress pampers you awesomely. Not forgetting its soft bamboo fabric that keeps you cool at night.
Bamboo is a very special plant, not only because it is the strongest and fastest-growing plant on earth, making its fibre strong, but also because of its exceptional antibacterial qualities that develops a natural barrier against bacteria. 100% natural, Bamboo offers a higher moisture absorption than cotton making it cool to the touch as the yarns weave a very breathable textile.


Selection of bed designs are available. Drop us a text to find out more.
Bedframe Sizes & Dimensions
| | |
| --- | --- |
| King | W1990 x D2080 x H1025 mm |
| Single | W1065 x D2080 x H1025 mm |
Bedframe Material: Fabric
Headboard Material: Fabric
Bed Height: 300 mm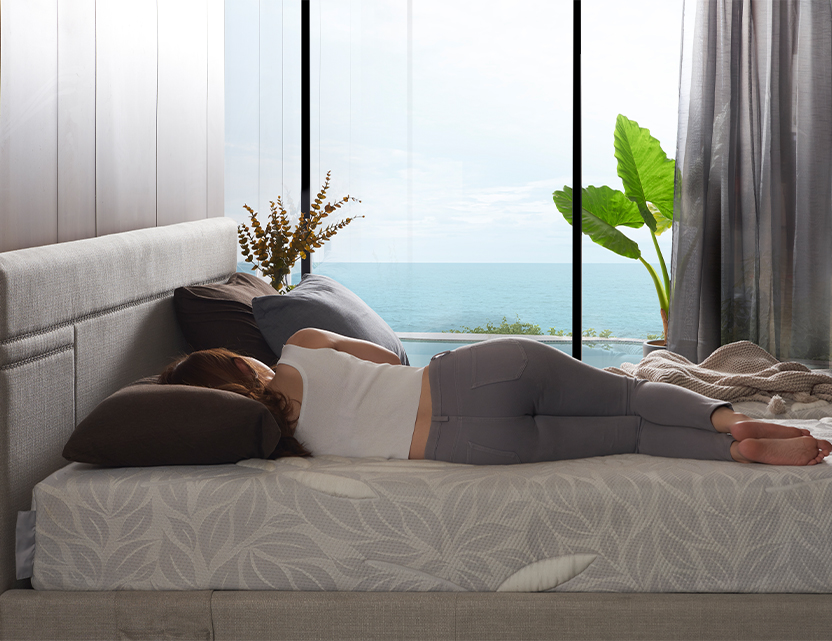 Health Benefits of an adjustable bed
The Float Adjustable Bed is accompanied by Natura mattress, made with 100% natural, hygienic and antibacterial bamboo fibre. With its natural antibacterial properties, high moisture absorption and breathable textile features, the bamboo fabric helps alleviate allergies by resisting fungi and harmful bacterial infestation. These properties are beneficial for users with asthma, skin eczema and sinusitis.
Specially developed with a natural latex layer to improve sleep and well-being , Natura offers incredible comfort and support. One of the benefits of latex is that it promotes pain relief by reducing pressure points, making this an excellent choice for people with back problems.
The all-nautral latex has open cell structure which dissipates heat quickly, leaving the mattress cool, fresh and breathable even on a warm and humid night.
Customer Reviews