Elda Modular Fabric Sofa With Removable Covers
Modern, grand and elegant with a touch of contemporary storage aesthetics, the Elda Modular Sofa With Removable Covers gives you the freedom to create the perfect living room arrangement for your home. A modular design crafted of wood and fabric upholstery, the sofa features comfortable cushions, elegant wooden arm storage and flexible seat configurations. Seat and backrest cushions have removable covers and the sofa is available in L-shape or 4 seater configurations.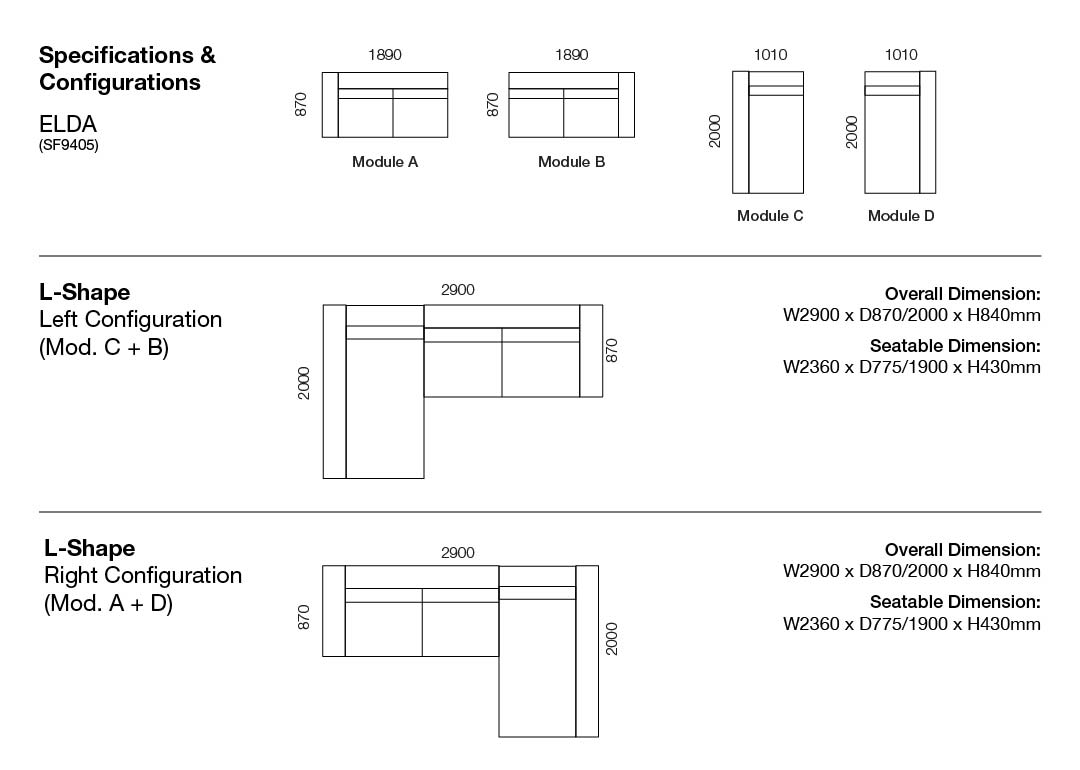 Overall Dimensions: 
L Shape - W2900 x D870/2000 x H840 mm
Seatable Dimensions: 
L Shape - W2360 x D775/1900 x H430 mm
Seat Material:
Upholstery in Fabric
Comes with removable seat and back cushion covers
Seat internal in high resilient foam
Seat base in elastic webbing
Back rest in fiber-fill
Sofa base and arm in Walnut / Teakwood veneer
Fabric Options: 
FB2049A Cream (Default)
FB2043 Dark Brown 
FB2050A Ivory
FB2052A Teal Blue
FB2051 Brown
FB2053A Dark Grey
FB2083 Sand
FB2084 Cocoa
FB2085 Gold 
FB2086 Indian Red
FB2087 Pine
FB2088 Teal
FB2089 Charcoal

Upgrade to FabricGard, Easy Clean options available:
FB4047 FabricGard (Easy-Clean): Neue
FB4049 FabricGard (Easy-Clean): Creame
FB2074 FabricGard (Easy-Clean): Beige Brown
FB2075 FabricGard (Easy-Clean): Brown Earth
FB2076 FabricGard (Easy-Clean): Grey Ash
FB4052 FabricGard (Easy-Clean): Misty
Leg Height
50 mm
Leg Material:
Wooden
Style:
Minimalist / Warm / Modern Japanese / Industrial Loft

Sofa Recommended For:
Mid-size apartments, landed homes
Size of 1200 sqft up

Design Feature:
• Well proportioned, the size looks luxurious. The veneer arms adds a tasteful design element to the sofa.
• The arms double up as shelves for storage of small items.
• Long chaise has the function of a daybed, or for seating when there are many people.
Customer Reviews